It'd be helpful to know when Textastic closes an SFTP connection once you're done with a task. When you switch away from an app. Force it to close? Put the iPad to sleep?
Connections are closed after each file transfer (upload/download). If you are just browsing directories, the connections are kept open to speed up the process.
You can set the maximum amount of concurrent connections in the connection's settings screen - the default is 3.


Sometimes, when I expand a suggested snippet, the current line is not updated. To see the modifications, I need to go up to that line and type something for the entire line to get refreshed.

Could you please do something? Thanks!

Occurs on iPad Mini iOS 6.1.3 & iPad Mini Retina iOS 7.0.3

FreeBSD, Linux sftp connection to display the file name is no problem.
Solaris only, no name will not be displayed.
I'm using Solaris 10 and OpenSolaris.
With sftp access using other apps on the iPad, the file name looks normal.
What should I do?
Attached to the screen capture.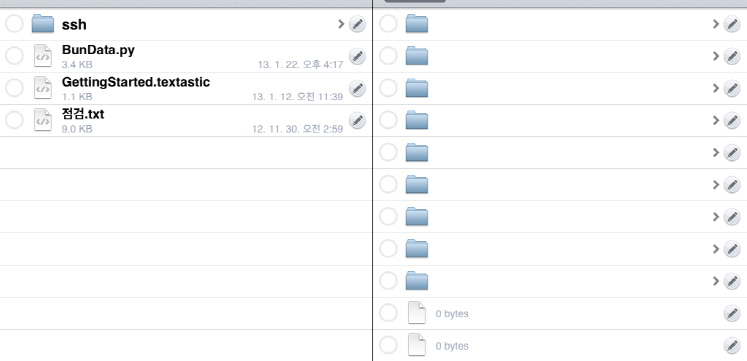 When replacing selected character (or group of characters) with accented character using bluetooth keyboard, accent alone replaces the selection and following character is selected. If I continue writing, this selected character is replaced with accented version of last entered character.
For example if I want to change word "banan" into "banán" by selecting second "a", I will end up with word "ban'á".
Will be fixed in the next update.

It would be nice to have a way to test out java code using a small internal terminal
ENGLISH: Is there comming a new Update?
Deutsch: Kommt ein neues Update? Wenn ja ist ein Termin bekannt?


Defined the FTP connection to my web site and was able to download, edit and upload one file, but now when I open the FTP connection it shows the list of files, but selecting one does not enable the Download option! I have tried several times, even quitting the app and launching it again.

While the app works beautifully on the iPad Air, it does not perform equally on the iPad Pro.
When I attempt to "Open" a file that resides in a cloud drive (Google, One Drive, etc.), I get an error message: "Failed to launch 'Google Drive' The document picker 'Google Drive' failed to launch (0)."
This same error message pops up regardless of the drive or app I attempt to access.
I can select a file from my Google Drive app and "Open in" Textastic successfully, but can't "Open" from the drive.

I have Dropbox sync a .bib (BibTeX) file, since I'd like to be able to edit it on various devices. I assume the proper workflow is to open the file in Textastic using the menu in the Dropbox app. But when I do so, Textastic creates a copy of the file and also renames it to .a4d. Is this behavior intended?